Why do some people seem to thrive—even in the midst of a challenge—while others wither? How do some people consistently show up in ways that inspire?
Unlock the answers and you will not only transform yourself, but you will also have the ability to shape others' capacity to do the same. In order to do this, you must discover the elements that enable you to thrive and show up as your best and most effective self, both at work and at home.
THE PROBLEM: We've been conditioned to associate top performance with long hours spent at work, minimal hours spent at sleep, and the greatest number of productivity apps installed our smartphone. Is this way of operating allowing you to be the best, most impactful version of yourself? On an organizational level, are we supporting people in ways that increase their level of engagement and productivity? The answer is a resounding "No". Our cultural norms reinforce an approach to life at work and at home that runs counter to fulfilling our potential.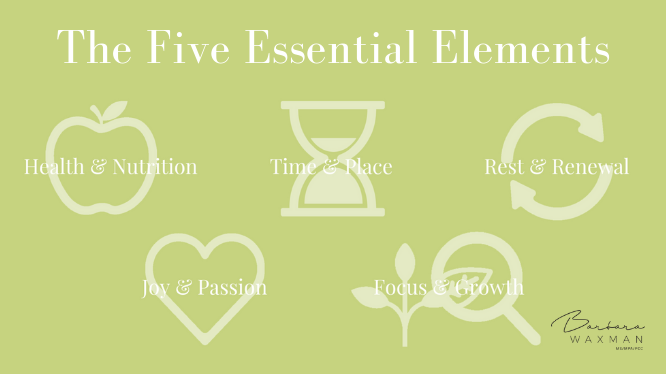 THE SOLUTION: The Five Essential Elements
Athletes, musicians and other top performers are the ones we typically associate with the highest level of self-care. They are diligent about making good lifestyle choices and they consciously activate a mindset to keep them, as many of them have expressed, 'at the top of their game.' Top performers have created a life based around what we call The Five Essentials Elements, and in doing so, have cultivated a mindset that allowed each individual to achieve greatness in their domain. But you don't need to be a professional athlete or musician to apply The Five Essential Elements in order to create a foundation for a highly successful personal and work life. High achievers in any realm are passionate practitioners of their craft. Their success rests upon their structured investment in themselves in order to produce extraordinary results.
Whether you know it or not, you are a leader.
In ways large and small, leaders assess the current state, identify problems, and activate pathways to change things for the better. Leadership begins with your ability to effectuate these elements for yourself by defining your personal version of a life well-lived. Only after you gain clarity for yourself can you meet your potential as a leader as you strive to impact your family, workplace, community and more.
The first step is to take stock of where you are in your life and get a picture of what is really going on. I developed The Thriving Quiz™, a 25-question assessment that produces breakthrough results and will help you be happier by doing so. By understanding exactly where you fall short, you will have the power to identify steps to create positive change. I'd love for you to subscribe to my e-mail list so I can send you the link to the quiz and begin your journey.
"I was shocked by the new insights that The Thriving Quiz unsurfaced! I thought I was thriving and turns out I have room to raise the bar to supercharge my mojo!"
– Lisa Kavanaugh, Leadership Coach